IMA-METAV SA at a glance

IMA-METAV is an aircraft metallurgy profiled society having has scope of activities including the production of superalloys, special steels and any other grade of steels according to technical specification of the customer and, also, has the capability for manufacturing metallic materials, castings and forgings, wheels and braking systems.
Our company is a joint-stock SME ,founded in 2004, by taking over the production capability and laboratories from METAV SA.
IMA METAV has developed, applied and maintains an integrated quality and environmental management, in accordance with SR EN ISO 9001: 2008, certified by AEROQ.
Specific domains
Conventional and non conventional technologies regarding special steels and superalloys manufacturing, metal casting, obtaining of sintered composites using metallic and metalloceramic powders;
Recovering and salvaging metallurgical scraps;
The steel shop of IMA-METAV SA has a technological flow using state-of-the-art equipment as well as a vacuum induction melting furnace, made by CONSARC USA.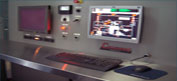 find out more »